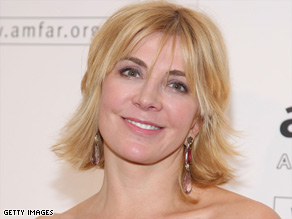 There are conflicting reports about
Natasha Richardson
condition, anywhere from Critical to Brain dead to passed on, either choice you pick is rotten. I really have enjoyed Mr Richardson career , from the first time I saw her in Parent Trap with Lindsay
Lohan
as that pretty little darling, to
Nell
with Liam
Neeson
( Ms
Richardson's
Husband) and Jodie Foster.
** See
CNN Report here
**
The Insider reports that as of today, Ms Richardson was back in New York City, so that must mean that if she was able to be transported she must be in at least critical condition.
Ms
Richardson's
Mother is
Vanessa Redgrave
and she is sister to
Joely

Richardson.
To think that this is how fast ones life can change is scary. I do very much pray she gets better for her sake and for her families sake, her boys need her as does her husband.
TV Tonight~
Since it is just an Idol night watching Stars dance I am taking a holiday and watching a
dvd
... Nightmare before Christmas. It is my standby when I am in need of some wonderful singing :-)
Tomorrow we are treated to better fare on TV with Lost -
Namaste
so the remote is mine. Also on is Criminal Minds on CBS. I will of course do my best to come and post after Lost. I am sure I am going to go insane trying to figure out where the whole story is going now.... much fun.