From
JerichoRises
.com ~
Jericho Ranger
K6

FEJ

posted the following early this morning:




It's Sunday evening and we have just returned home from meeting up with the California Rangers at the corn maze. What a great time we all had.

When I had arrived Ratkeeper (Gwen) had a wonderful Jericho tent set up at the park. It was easy to spot with the DTOM flag and the tables set up with food and peanut launchers.

After a very nice visit with the group we set out to the Corn maze with a map, water, pencels and paper to search for clues to a Jericho mystery to be solved in the corn maze.

Afterward we headed back to the park to solve the mystery and enjoy the company of the Rangers and all the great food that was brought to the pot luck.

It was a pleasure to meet our gracious host Ratkeeper (Gwen) and the gang. I will be looking forward to the next get together.

K6
Now this is the kind of action that brings out my Jericho Pride, I am only sad that I was not aware of this before the event so that I could help publish it for others. I am sure though that all the CA Rangers who could , made it.
I would love to hear more about it, and being able to share via the photographs that they posted at the Jericho Boards was awesome!
I especially love this photo ~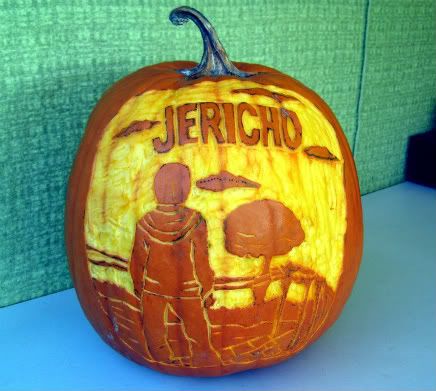 And so in the spirit of the wonderful things Jericho Fans do, and Halloween ~